Taking control of your E-mail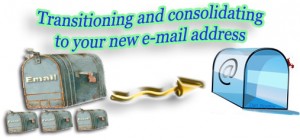 How do I change to my new E-mail address without loosing my important emails or contracts?
This doesn't have much to do with home inspections but it's a dilemma that many people experience.
Many people feel locked in to their old AOL email or they want to change internet service providers (ISP) and feel stuck because they've been using Cox, Verizon, etc for years.
If you follow the advice I give here it will be a smooth transition for both you and your recipients and you won't loose any important emails.
The first piece of advice is to get an independent e-mail address that is not tied into your service provider, current place of business or any other organization that could potentially change.   Sever the ties that are anchoring you to your old service provider.  E-mail accounts are completely free these days and many of the free ones are more advanced in terms of contact management and integration with smart phones and many other apps.  I recommend Google's Gmail. They are on the cutting edge of technology,  it's free, has many powerful contact and communication features and is easy to use.
Professionals should have their own e-mail domain such as bob@bobsrealestate.com. These accounts are typically included free with your web site domain hosting but you don't even need a website to have your "private label"  e-mail address.  Professionals should have their own e-mail domain because it adds credibility and gives a sense of stability and longevity.  I' always suspect when I see a nice website with professional presence yet the email address is bobby9875@yahoo.com.
Once you decide what your new permanent e-mail account is going to be, go ahead and set it all up including putting in your contacts.  If you are using a web client on your computer such as Outlook or Apple Mail you will not have to change anything on your contacts. If you prefer web based email (many do because they can check their e-mail from any computer) you'll have to set up your contacts in the new e-mail account.  If you have a lot of contacts most e-mail providers have an export feature where you can export your contacts into a text file or Excel file and import into your new e-mail account.
Once your new email account is set up and running.  Go to each and every one of your old email accounts (most people only have one) and change the account settings to FOWARD all emails to your new e-mail address. Most e-mail providers have this feature but some don't.  Don't close any of your old accounts just yet. Let them linger and continue to forward your e-mails to your new address. This will create a transition overlap and you'll still have the option to go check your old e-mail accounts to make sure your not missing anything.  Eventually your new e-mail address will dominate and you can let the old ones expire or close them in 60-90 days.
Now any of the forwarded e-mails will be received in your new email account.  Now when you respond to, reply to, forward or just send from your new e-mail account it will automatically show your new e-mail address in the recipients FROM field.  This is key in making your transition. Many e-mail apps will also automatically add your new email address to their address book. In addition to this you should put this message in the signature line of your new e-mail account.
"My old email account is closed. Please update your address book with my new address: bob@bobsrealesatate.com"
Recap:
1. Open and set up new independent, permanent e-mail account and install your contacts.

2. Set up forwarding your old account e-mails to the new account.
3. Announce your e-mail address change in the signature line of your new e-mails.