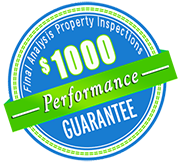 Every Home Inspection we perform comes with our exclusive Performance Guarantee for FREE
Performance Guarantee -
This is how it works. In the unlikely event that a minor repair is needed for something that should have been discovered within the scope of a home inspection*, we will pay up to $1,000 to get it corrected, with no deductible and no cost to you.
We have performed many thousand of inspections over 25 years and very rarely something gets past our meticulous inspectors. A home inspection covers hundreds of points of observation and testing, but after all inspectors are only human and some defects can be overshadowed or overlooked. Our experience is that most defects can easily be repaired for far less than $1,000.
Is this Guarantee the same as a Home Warranty?
No. Whereas the home warranty covers things that break after the inspection, the Performance Guarantee covers defects that we should have found within the scope of a home inspection, but didn't.
What does this guarantee cover?
It covers items that should have been caught during an inspection, but got past us. Examples include Damaged electric service components, damaged, broken window, defective water heater installation, rotten wood, missing insulation, exposed wire connections, amateur workmanship, etc. We will cover the cost of repair up to $1,000 if needed. Because we are so focused on the major concerns, it is our experience that the few call backs we have had are very minor, and usually easily fixed.
What is not covered?
Items that were functioning normally on the day of the inspection, but fail sometime after the inspection (Latent defects).
Defects that could not have been discovered at the inspection. These include leaks from the roof if there was no rain at time of inspection or inspection items limited because utilities, gas, water, electric is off.
Any cosmetic damage to wall, ceiling, paint, floors, cabinets and interior finishes that could have been caused by moving.
Drain blockage of any kind. We run lots of clear water through drains, but cannot predict blockage due to normal use (toilet paper, food debris, soap suds, waste, etc).
Fixture leaks not caused by drains or faucets, but those such as shower doors, gaskets, caulk seals, shower curtains, splash, spillage or overflow that may be caused or revealed by normal or improper usage and otherwise undetectable through standard testing and inspection procedures. During the inspection we run all faucets for 1 hour, fill fixtures and drain. Then visually inspect for leaks then scan areas above around and below all fixtures with a thermal camera and moisture detection meter.
Light switches, GFCI and AFCI devices, drippy, leaky faucets (because they are maintenance items subject to normal wear and tear and can fail at any time)
Items or equipment that are reported as old, antiquated, outdated or beyond their service life.
Items noted in the report as in need of repair, defective or deficient.
Items that were concealed, not accessible, or not operable at time of inspection.
Secondary property damage, such as water damage.
Any item that has been serviced after the inspection without prior notice to us.
Any items repaired without having contacted us first.
Items not covered under the scope of a normal inspection, DPOR regulations and the ASHI standards of practice.
Is there a time limit?
Yes. Since this is a guarantee of our work, and not a warranty, it does have a time limit. You need to let us know right away if you think we missed something. You have 90 days from the date of the inspection to notify us and we will respond within 24 hrs.
Are there other restrictions?
You must notify us immediately and in written form prior to making any repairs. If repairs are performed without notifying us first, the Guarantee is void. We do not reimburse client for repairs performed without prior approval. We reserve the right to verify that the item should have been included in the report, within the scope of a home inspection, and have an opportunity to make the repairs in house or use the contractor of our choice.
Items that can be repaired will not be replaced if repairs can be performed.
Is this just a way to limit the Company's liability?
Nope. We still maintain a solid Professional Errors and Omissions (E&O) policy for unthinkable situations. An example would be a fire caused by something we didn't report. This program is simply to give you the confidence that we will do a good job as promised, or we will fix it at our expense.

*Any repairs must be for items that fall within the scope of a home inspection. The scope of a home inspection is defined in the ASHI standards of practice, and our inspection agreement. which are available at http://final-analysis.com
Items that do not fall within the scope of a home inspection are not covered. Examples include sprinkler systems, Window coverings, concealed defects, and items not observable due to ambient conditions.
Items that were not accessible at time of inspection due to personal items, locked rooms, lack of utilities or concealed are excluded. Home inspectors do not move personal items.