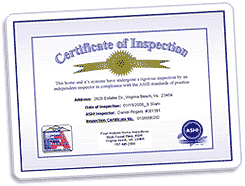 Certified Pre-Inspected Homes

Sell your home Faster, for more money, with less aggravation.
With the "Sellers Advantage" download sellers package (PDF)
This program is designed to give Sellers & Listing Agents the advantage when marketing their home.
You can wait for the home buyers inspection like many home sellers do . Or you can be proactive by taking control of that vulnerability up front.
Here are a few compelling reasons for you, the home seller, to invest in a professional inspection before listing your home.
jump to: Frequently asked questions
It's a powerful tool for marketing your home.
Gain the advantage, Sellers inspections are a proactive approach:
Sellers program features


Free Termite Inspection.

Free AHS 90 day warranty.

Free public report posting.


Free reinspect to verify repairs.


Certificate of inspection.